Introducing the World's
First Platform Built to
Differentiate Sellers
Rise above market noise as a seller and get yourself heard by key decision makers
PitchPersonal creates a personal PitchSite for each key prospect with the idea they'll be most interested in
Differentiation and Prospect Engagement Are Now
Problem Number 1 For Sales People and Entrepreneurs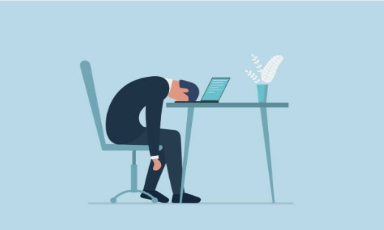 Kill Your Generic Collateral
No longer will you look like every other sales person sending out the same corporate speak sales collateral and links to generic corporate websites. You can't rise above all the market noise to engage prospects when what you send is the same stuff everyone else sends.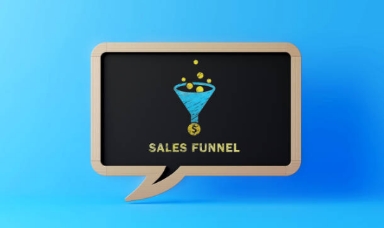 Can't Get New Meetings?
Sick of sending out email after email, making calls, social media touches, only to have your outreach be ignored and your pipeline empty? Decision makers are drowning in market noise, and if your ideas aren't hyper-personalized and immediately engaging, you won't penetrate new accounts.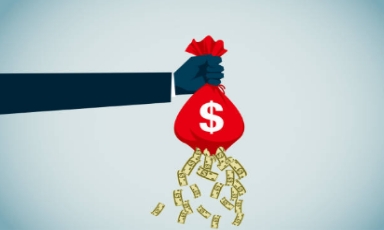 Losing Deals to Competitors?
Stop losing opportunities because prospects just can't remember the difference between your solutions and what other competitors are pitching. What if your opportunities knew clearly (and remembered) exactly where your solution is better, why it's better, and why it's better for them!
Everyone Knows Sales Has Changed... But Sales People
Aren't Changing the Way They Sell!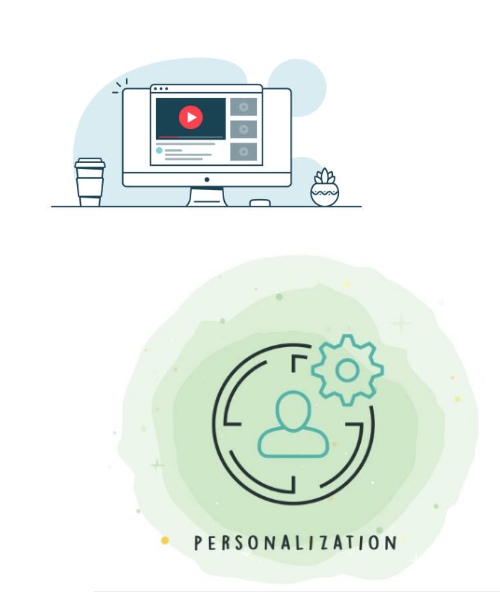 Over 60% of the buying process is done by the time a decision maker wants to talk to a sales person.  If you're coming in this late, you've already lost!
Add to that… 74% of buyers chose to do business with the sales person who added the first new idea insights!
7 in 10 B2B buyers watch product feature and how-to videos during their buying process. Are you sending personalized video?
72% of buyers say they only engage with personalized messaging
80% of buyers say they are more likely to make a purchase from a company that provides personalized buying experiences
"Dominant selling in the in the next decade will be completely driven by
sellers who engage decision makers with personalized new ideas
and teach for differentiation based on their knowledge of the prospect"
Introducing PitchPersonal
PitchPersonal is the world's first sales differentiation platform designed to help sales teams and entrepreneurs engage prospects in a completely new way to get their ideas heard.  PitchPersonal helps sellers penetrate up to 600% more new accounts and creates personalized buying experiences that increase closing ratios by 200%.  Check out this demo to see how it works!
Here's Just A Taste Of Some of the Things You'll
Be Able to do With PitchPersonal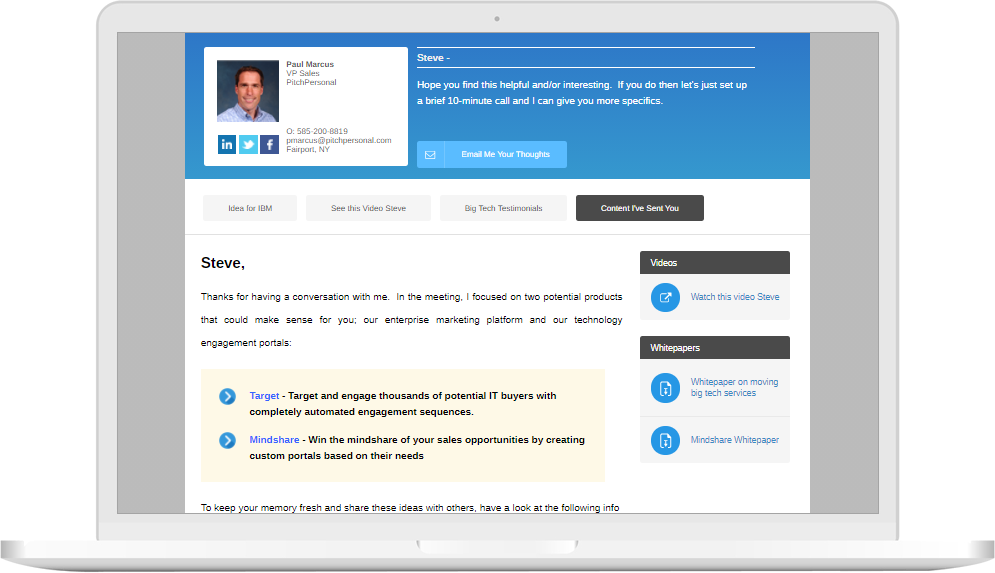 Literally Create A Personal Website For Each Target Account
PitchPersonal enables sellers to instantly create a personal PitchSite for each key account or prospect they engage with, all of it hyper-personalized for 10x the engagement power of generic collateral and corporate websites.
Personalize Everything. The
Ultimate Engagement Power
Every company you're trying to engage will think you built a website just for them.  You can personalize everything from the logo, to the tab names, to the pages they can view.  Even instantly add/change content to make everything 100% relevant.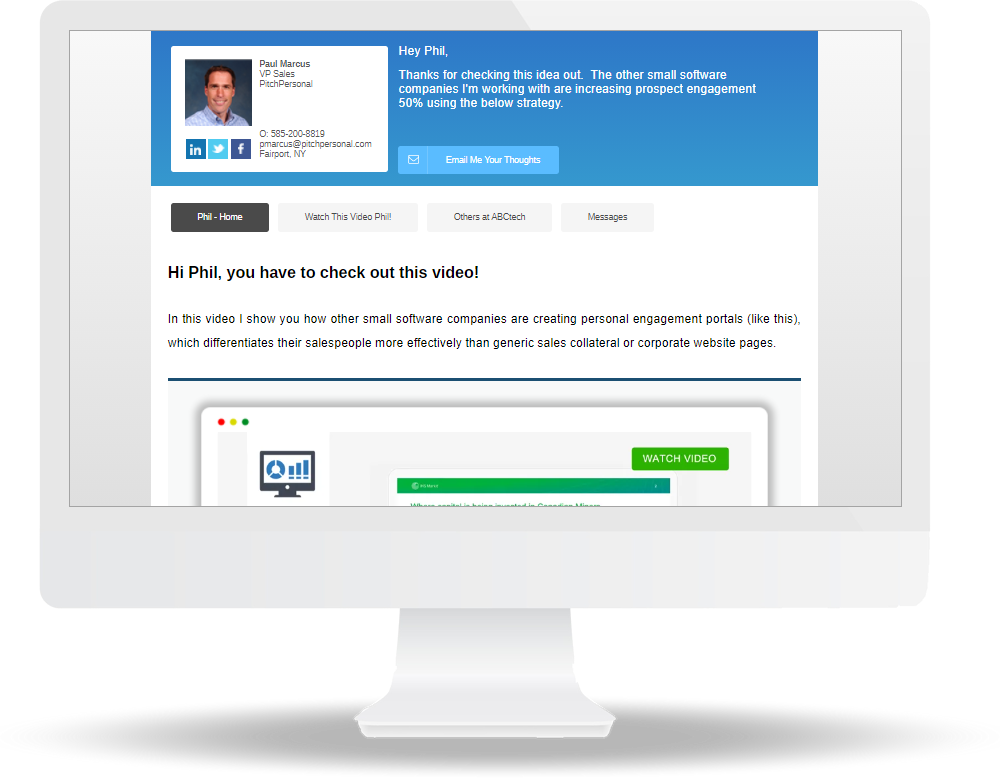 Create the Ultimate Buying Experience and Dominate
Your Competition in the Sales Process
You have a CRM to stay organized. What does your prospect have? They're getting bombarded by emails from you and all your competitors. Now organize everything for them in one PitchSite. From the features they need, to training videos, to comparison checklists VS your comps… Make buying easy for them and win the deal.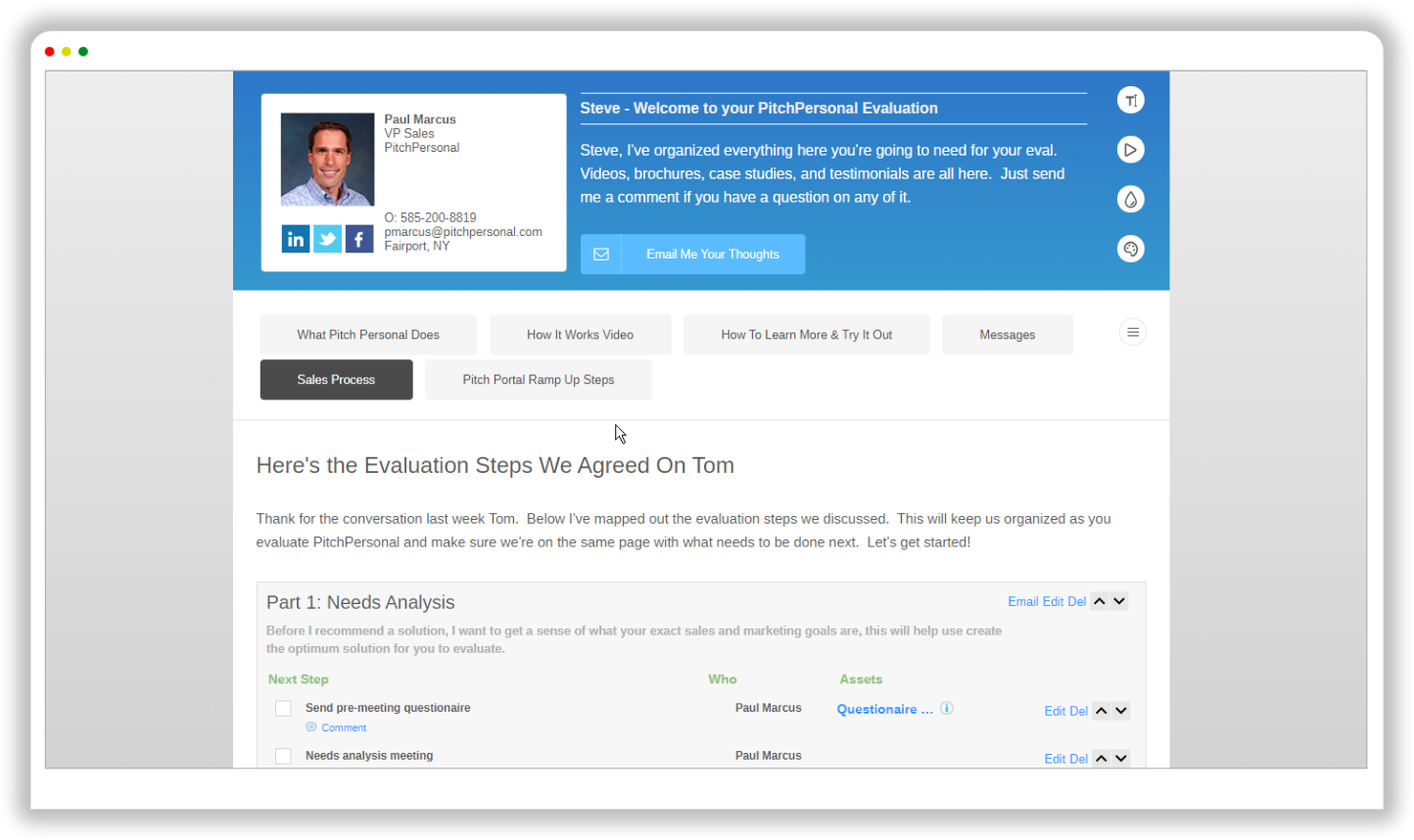 Engage Multiple Decision Makers at the Same Company
Want to create immediate relevance and explode response rates?  Engage multiple decision makers and make sure each knows you're reaching out to the other.  Translation… email your prospects boss!  PitchPersonal has technology that will blow you away to engage multiple decision makers.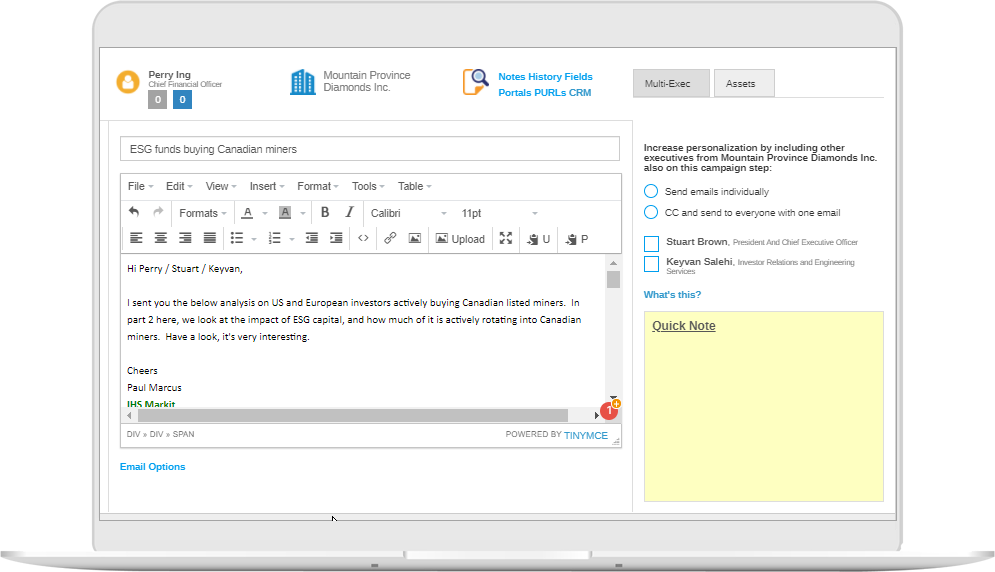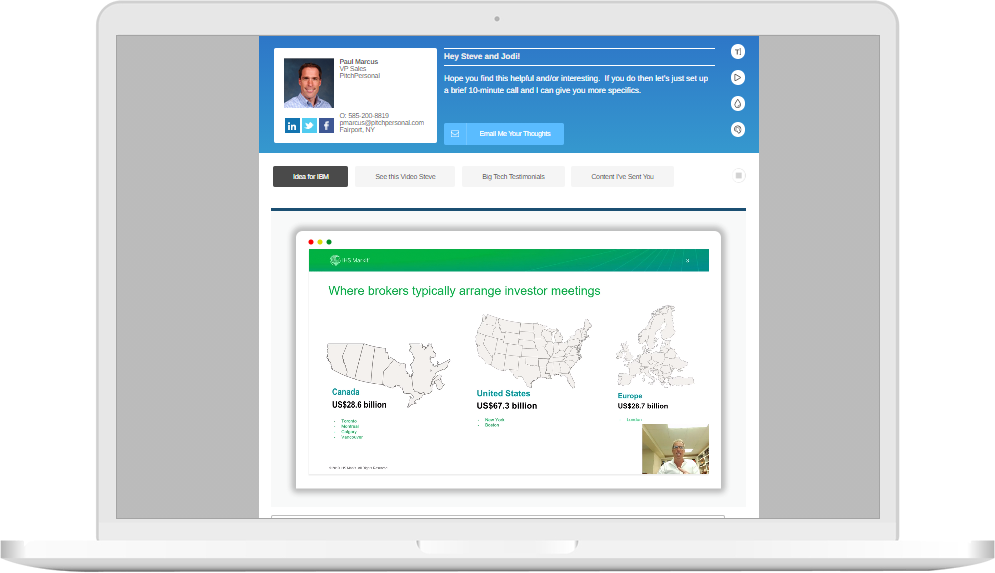 Humanize Your Approach. No More Generic "Corporate Speak"
We're in a world of YouTube and TicToc. No one wants to see generic marketing videos and content anymore. PitchPersonal portals brand you, a human, and therefore have far more engagement power than generic corporate sites. Just record yourself with a PowerPoint deck!
Oh Yea... Total Prospecting Automation That the Other Guys
Charge Tens of Thousands of Dollars For
You can't get your PitchSites viewed unless you get your message gets out there in scale.  PitchPersonal has a complete prospecting automation platform for multi-touch campaigns including emails, calls, social touches, tasks, etc.  Create the same sequences and drip campaigns that marketing automation and sales engagement platforms charge tens of thousands of dollars for.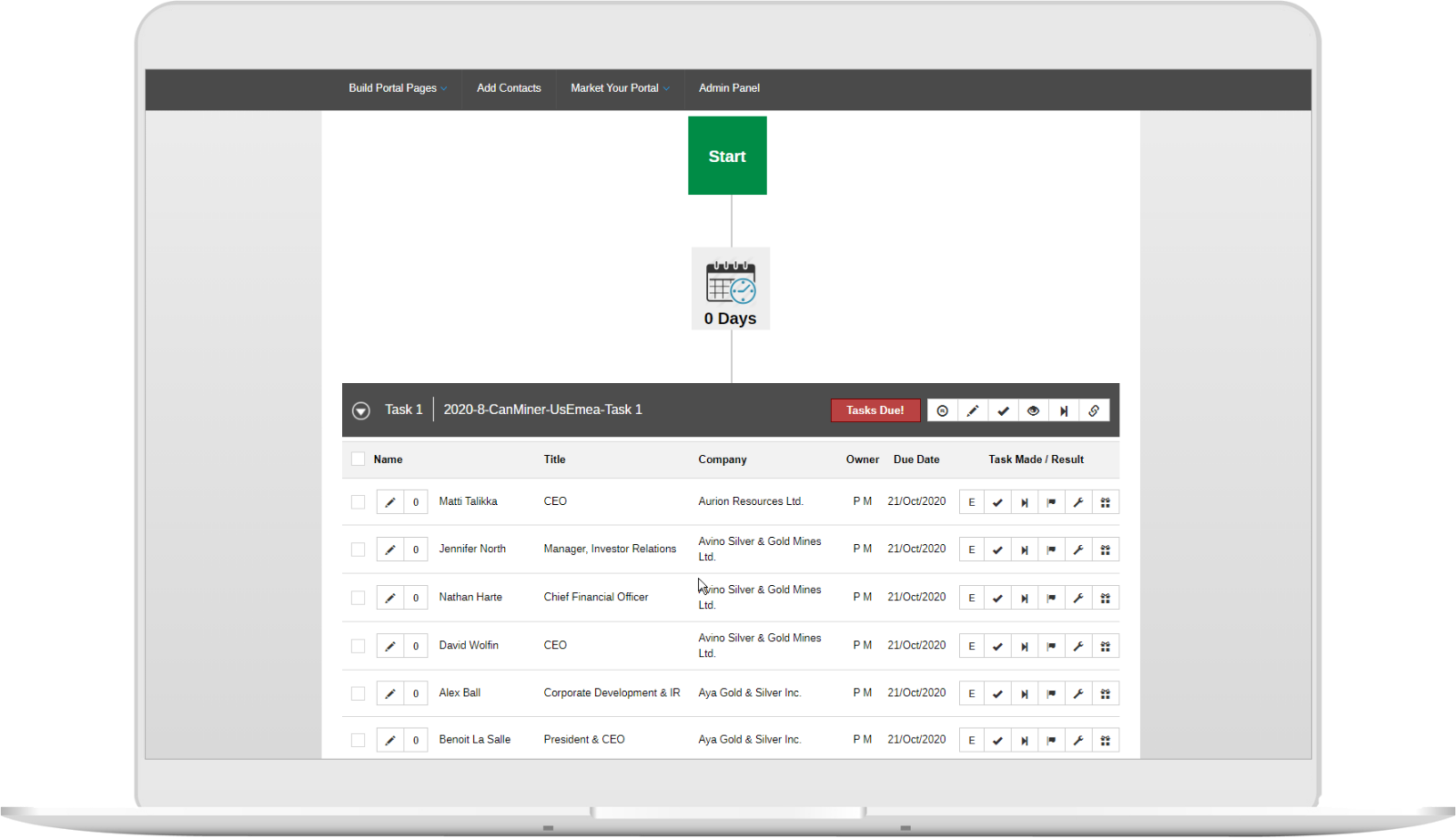 1-Click Pages Into Your PitchSites
From Your Content Libary
Every prospect is going to have different needs and priorities. With the PitchPersonal Content Library you'll be able to add relevant content pages for that prospect in 1-click. It's like building a different website for each prospect based completely around their goals.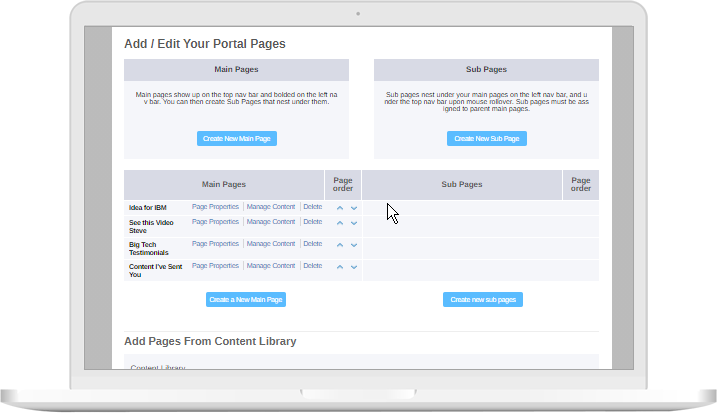 Update A Page Once, Update it In
100 Different PitchSites
Content Library also allows you to update a page once, and have it automatically update across hundreds of portals. Have a new video you want to add to your testimonials page, add it once in the Content Library and it will update every single portal that page is in. Personalization at scale!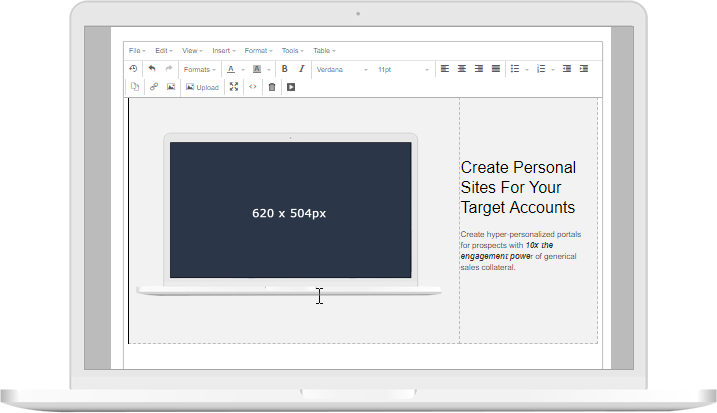 Organize Every Important Email For Your Prospects
Using PitchSites you can easily create a page that shows all the important emails you've sent your prospect.  No more getting lost in their inbox!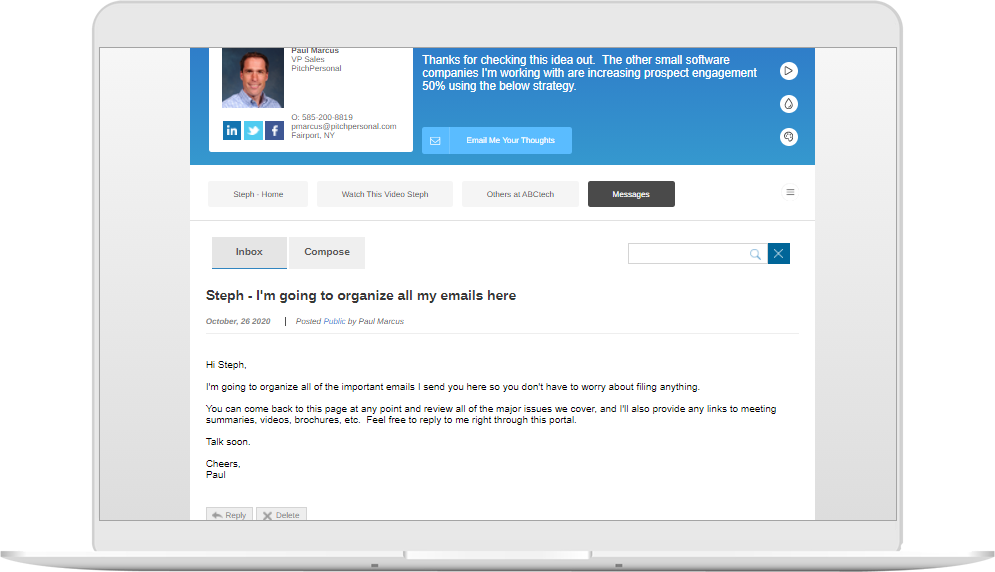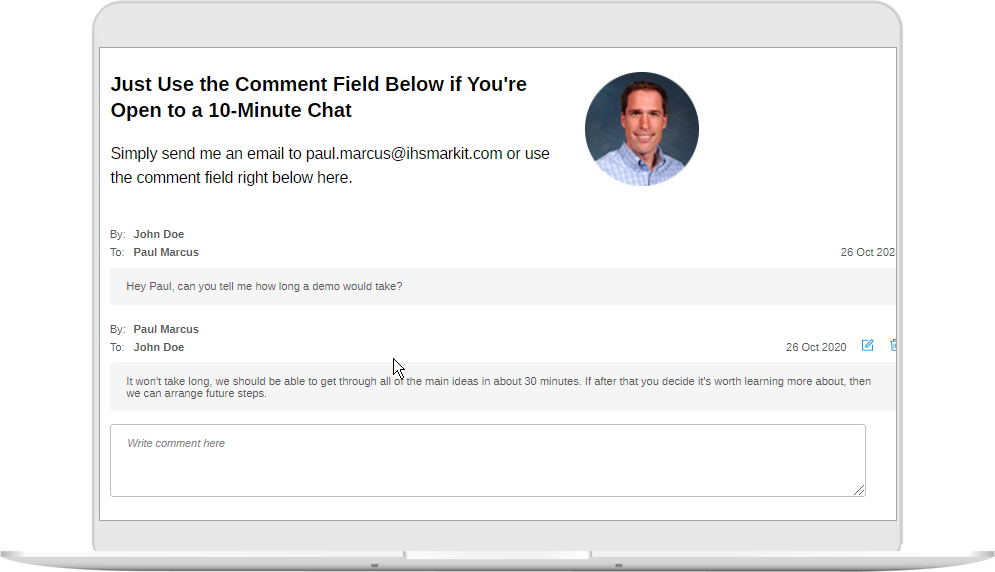 Collaborate Right Through Your PitchSite With Comments
Is your marketing collateral or website interactive? No, it's generic. Make the content you send to prospects interactive so they can ask questions, make comments, or even send messages.
Use Milestones to Align Your Sales Process with the
Customer's Buying Process
In sales we spend so much time thinking about OUR SALES PROCESS that we never take the time to understand and get on the same page with the customer's buying process.  The PitchPersonal Milestones Page creates shared collaboration and ownership of each step in the sales/buying process so you and your customer are always on the same page together.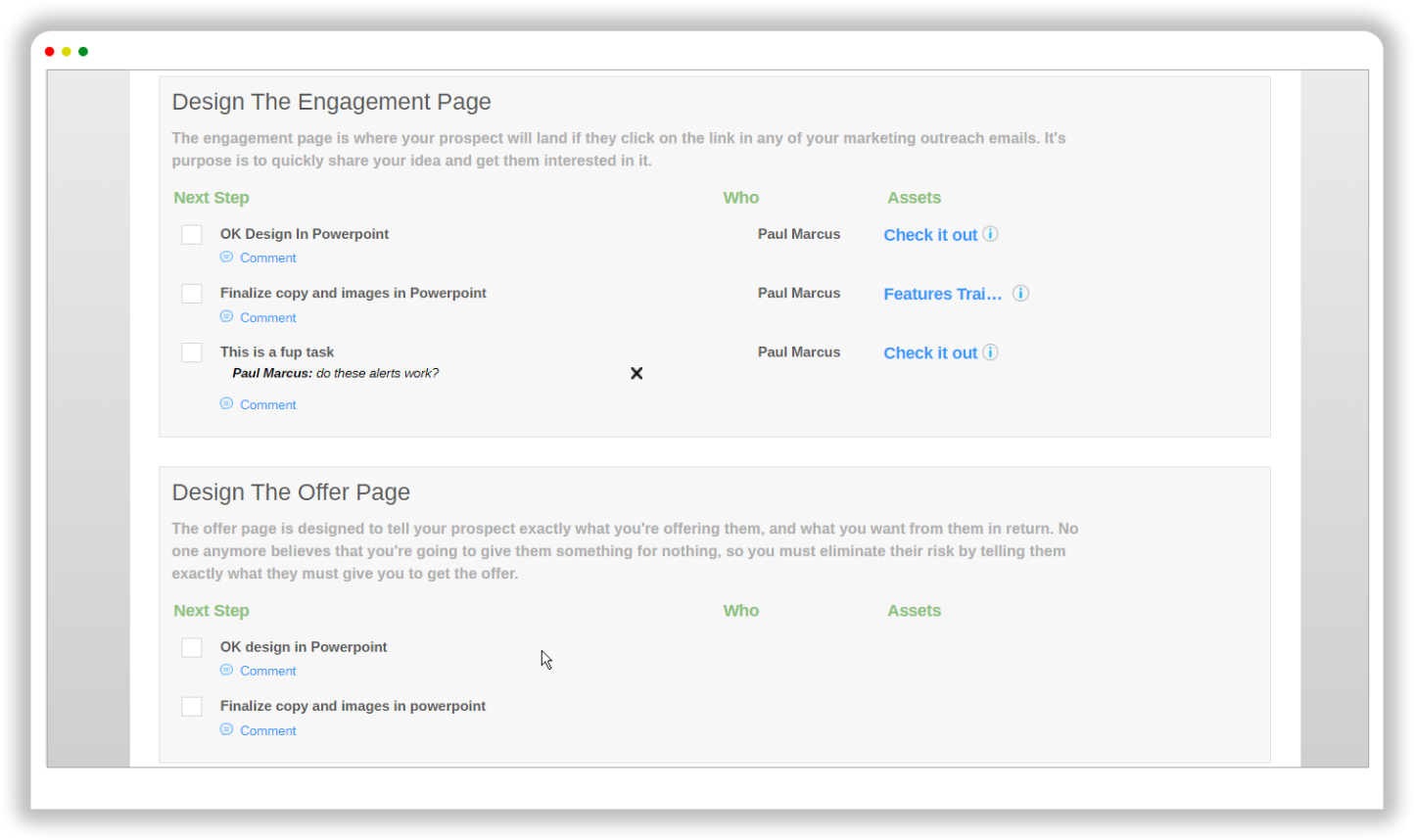 Stop Wasting Time Chasing Deals that Aren't Going to Close
Working deals that aren't going to close is not only annoying, it's expensive and time consuming. PitchPersonal will literally tell you which of your prospects are truly engaged in the buying process and which are kicking tires and wasting your time.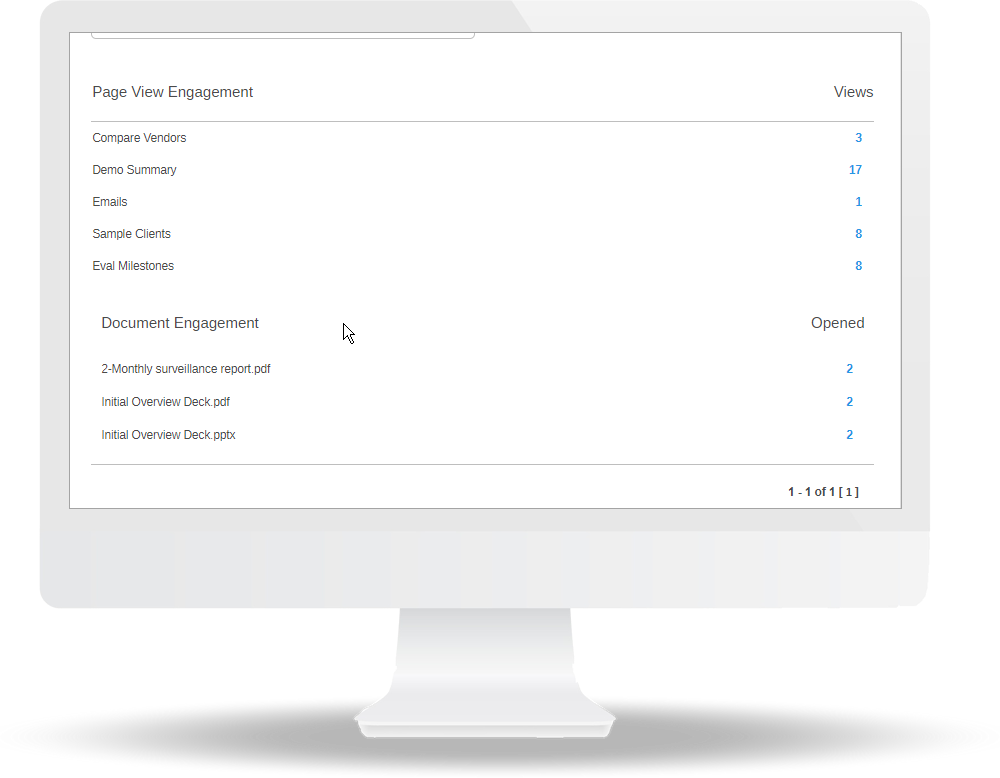 Prospecting Used to Be Time Consuming... Not Any More
PitchPersonal will speed up your prospecting 3x – 6x. Use it to create massively more opportunities, or hell, use to just work fewer hours! Either way, emails, calls, and other touches are about to get a whole lot easier.
PitchPersonal is the Perfect Solution for Anyone
in the Business of Engaging Customers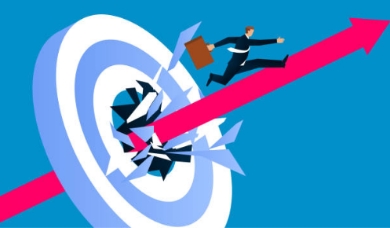 Anyone In Sales
Salespeople can stop wasting time chasing deals that aren't going to close, increase closing ratios verse the competition, and increase prospecting efficiency 3x - 6x.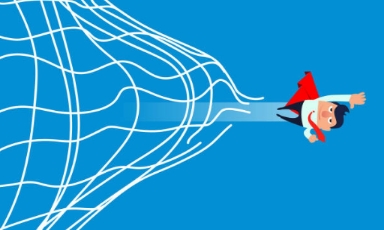 Entrepreneurs
Another word for Entrepreneurs is sales person! You can't grow your business unless you can sell and nothing will make you more effective at selling, for the price, than PitchPersonal.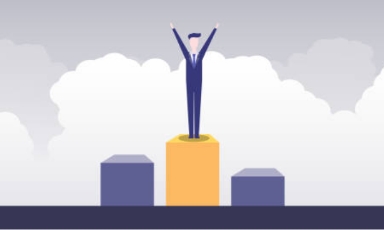 Customer Service
PitchPersonal creates personalized customer service portals that are far more engaging and helpful than any generic service portal. Create the ultimate service experience for your key accounts.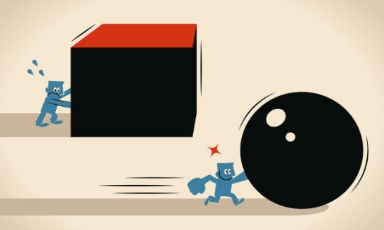 Sales Development
Sales development platforms cost tens of thousands of dollars. Now for just a few dollars/month PitchPersonal creates the ultimate prospecting sequences for sales dev reps.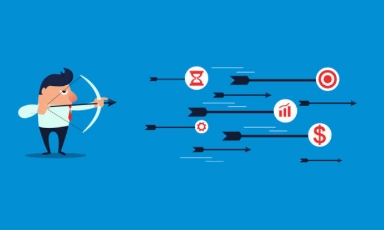 Marketers
You know personalization is the future, and gets results. Now create content that creates a truly personalized engagement sequence for all the personas you engage with outbound.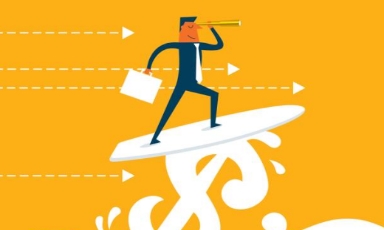 CEOs and Sales Leaders
With PitchPersonal you can scale personalization across your targeted key accounts to differentiate your offerings and increase revenues, while at the same time ramping up sales people faster.
Check Out Some of the Amazing Ideas PitchPersonal Users
Have Come Up With to Differentiate Themselves
The "I Just Helped Your Competitor Idea Site..."
This is our absolute favorite. Take one of your clients, then create a PitchSite outlining exactly how you help them and send it to their competition. The engagement rates for this strategy are simply out of this world.
The LinkedIn or Referral Initial Engagement Idea PitchSite
Another great one. Take a referral or a common LinkedIn connection and create a personal portal for them on how you helped your common connection. Again, amazing engagement rates.
When You Know Which Competitor Your Prospect Uses
Your corporate website and sales collateral are completely generic, but what if you sent a key account prospect a website completely built around your strengths VS the competitor they use now? Now that creates relevance!
Video is the FUTURE OF SELLING! You Hear It Everywhere,
and PitchPersonal Was Made for PERSONAL VIDEO

An initial email with a video receives an increase click-through rate by 96%

Viewers retain 95% of a message when they watch it in a video compared to 10% when reading it in text

Marketers who use video grow revenue 49% faster than non-video users

Video marketers produce 66% more qualified leads per year
Hellooo!! Are you using video yet in your sales and
prospecting? Watch how easy PitchPersonal makes it...
Wait... You're Thinking It Must Be Really Hard and Time
Consuming to Create a Personal Portal?
Think again. Creating your PitchPersonal portals takes minutes, not hours. In fact, getting your hyper-relevant personalized messages in front of customers is as easy as three steps:
Choose a template. You can create your own templates to use over and over, or start off with one of the ones we provide you.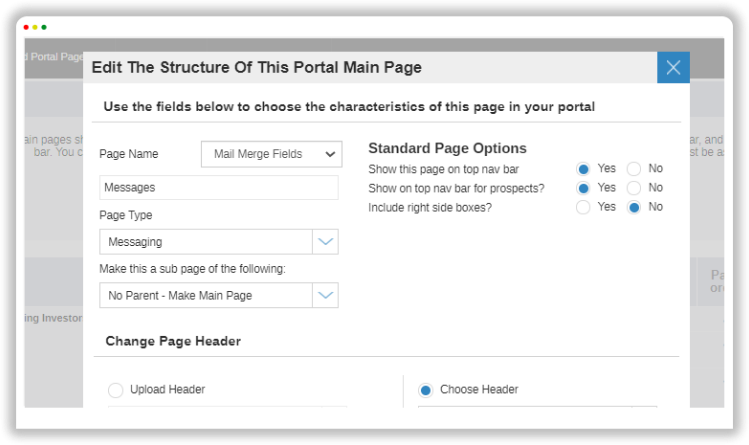 Customize the content of the portal to make sure it's hyper-relevant to the key account or prospect group you're engaging.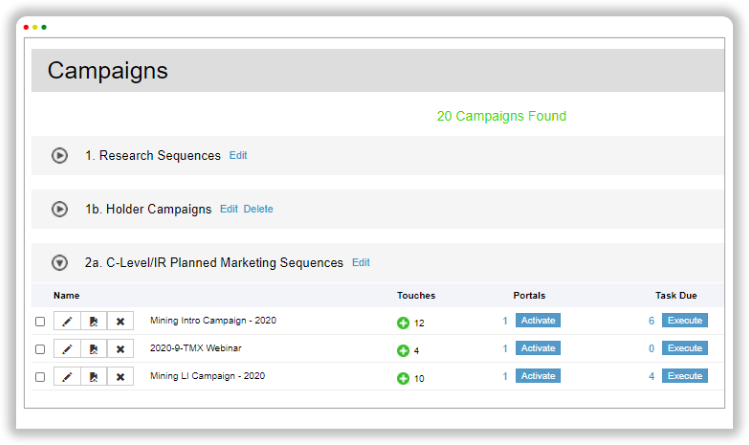 Add a campaign and start reaching out to prospects to get your new portal viewed, and start winning mindshare!
OK, Check It Out. Watch Me Create and Start Marketing An
Amazing Personal Portal In Under 2 Minutes
The World is Full of
Choices
Sales, along with marketing, is radically changing. Massive increases in market noise are killing differentiation, and customers now have so much access to information that much of the decision is made before a salesperson enters the conversation. You now have 3 choices:

DO NOTHING
Keep using the same generic sales collateral and links to your corporate website. The problem with this is you look no different than any other sales persona and will most likely just get ignored in all the noise.

HOPE...
Hope that your company and management team can put together the tools to help you differentiate yourself. However your boss probably cares more about tracking your activity than providing tools to help you sell.

LEAD AND DIFFERENTIATE
Or embrace and lead the change into personalization and video. Create the ultimate buying experience for your customers and massively differentiate your approach from the sea of people selling.
Sign Up For PitchPersonal Today and You'll
Have Immediate Access To:
For a Limited Time
Subscribe to PitchPersonal at the
Early Beta Price!!
PitchPersonal is $49/month, but now FOR A LIMITED TIME you can sign up at the early beta launch price for only $10/month!. This is an extremely limited offer. Only 500 early beta launch seats will be sold!
Sales development and marketing automation platforms alone cost thousands of dollars a month, even a basic CRM which doesn't help you differentiate yourself at all costs over a hundred dollars per user per month!
With PitchPersonal you'll be getting all the prospecting and engagement power of these thousand dollar applications, plus the world's first hyper-personal customer engagement technology built to differentiate you from market noise, and your competition.
But that's not it, we're also going to remove all the risk with a 30-day money back guarantee.
We'll take on all the risk. You go ahead and give PitchPersonal a try for 30 days and if it's not for you we'll return your investment with ZERO questions asked.
Take Action Now and Also Get Instant
Access to These Two Bonuses To Rocket Your Sales:
Start Engaging New Prospects Like The World's Leading Sales Experts
The Prospect Engagement Pack is going to give you, absolutely free, everything you need to start engaging new prospects like a pro. Included in this are the portal templates, page designs, campaign sequences, and emails you need to get started creating world class marketing PitchSites:
Completely Dominate Your Competition and Close More Deals In Your Pipeline
The Opportunity Closing Pack will have you creating the ultimate buying experience for prospects actively evaluating your services, and will completely differentiate you from the competition. Get free templates, page designs, and instructional video that will have you transforming your sales process into a closing machine!
Lock In Your EARLY BETA LAUNCH PRICE TODAY Before the Price Goes Up! Only 500 Early Beta Seats Will Be Sold.
Choose Your License Option
If you are not completely satisfied with your purchase within 30 days of buying PitchPersonal, we will refund 100% of your money, no questions asked. Just email us at support@ec2-13-58-114-214.us-east-2.compute.amazonaws.com and every penny will be gladly refunded to you within the first 30 days. Nothing could be more fair than that.